6 Tips to Create the Perfect Automation Tester Resume
Impressing potential employers starts with a compelling automation tester resume.
It doesn't matter if you know white box, black box, and regressions like the back of your hand. Or you can design test cases like a machine. Not being able to list out scroll-stopping QA skillsets increases the likelihood of failing the 5-second scan from employers.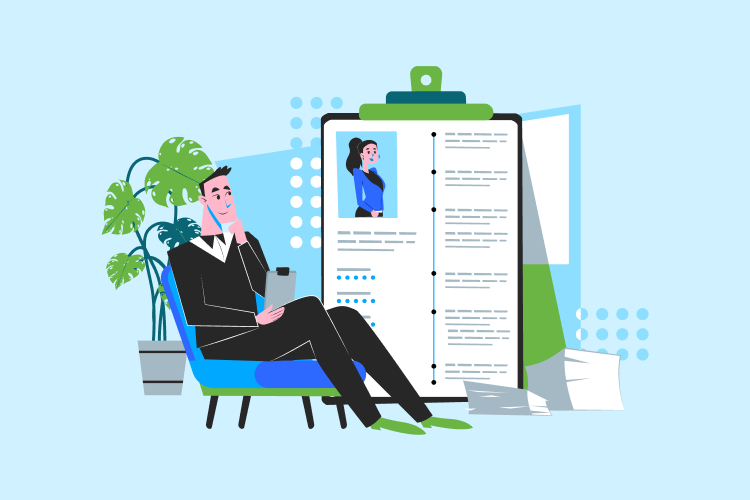 Surprisingly, 51% of people use irrelevant buzzwords and wrong pronouns. And 85% of recruiters also believe that professionals exaggerate skills on their profiles.
That's why reputable companies have employed applicant tracking systems to filter out unqualified candidates. Adversely, promising resumes from automation test engineers can easily be left out of the list despite being highly skilled in the realm of software testing.
Let's roll through six pro tips to create the perfect automation tester resume, but before that, a brief look over the automation tester resume sample.
Create An Impressive Resume to Land Good Automation Tester Jobs
We don't blame you for the low response rate after applying for high-paying QA jobs.
New, and even experienced automation testers, find it difficult to think of what to input in different sections of a resume.
Here are the sections you can keep in a similar order while creating a simple yet effective automation tester resume.
Name, contact information, and links to social networks (e.g., LinkedIn) and personal testing projects (e.g., GitHub)

Career objectives

Professional experience




Company name and job title

Year of experience

Technical responsibilities and skills used

Educational background (if applicable)
Pro Tips

Pro tip #1: Include your contact information
You never want to mess up the contact details. A resume of automation testers that does not list out the necessary information results in a higher chance of being passed by.
Make sure to provide your potential employers with these basic contact details:
First name and last name (no nicknames please!)

Email (make sure that the address is professionally named – ilovecoding123@gmail.com is a no-no)

Telephone number

Social links

Avoid putting your physical address in since some companies prefer hiring staffs within their area only. Be crystal clear on whether you're open to remote, in-office or hybrid work preferences to the HRs
Pro tip #2: Small (but impactful) details
Even professionals with excellent testing abilities fail to land good automation tester jobs by missing out on tiny details while creating a resume. Emphasizing on a few important things can increase the odds of getting hired. Here are a few minor tweaks we think you should do to your text before mailing to another recruiter:
Use bullet points. Big blocks of texts in your resume will only bore hirers. Your resume should have everything simplified.
Shorten things. If your resume extends across multiple pages, you may consider shortening it. Recruiters often like to see the most important things in their initial scan of your resume. It's better to stick to the highlights of your accomplishments rather than job duties that have no impact on the position you're applying for.
Pro tip #3: Develop A Profile Section for Resume Objective Or Professional Summary
Professional summaries help leave a succinct description of yourself and make a good first impression. They need to encircle different areas of your expertise, mission-critical and modern QA skillsets.
Here's an example:
"Established automation tester with over 5 years of experience working for small to medium-sized organizations, helping them develop test automation frameworks and test scripts using JAVA, Shell, Perl, Python, and other object-oriented programming languages."
Pro tip #4: Humble bragging
To craft a perfect QA automation tester resume, you must master the art of humble bragging:
Include any awards, commendations, or medals that will put you in a better position to secure the job. If there are QA-specific video tutorials or blogs you've made yourself, list them out.

Show what you know but avoid doing repetitions or using pronouns. Saying 'I tested this' or 'I built that' could come off as unprofessional.
Pro Tip #5: Keep It Neat and Relevant
A study from Ladders, Inc. revealed that professionals only get around 7.4 seconds to leave an impression on recruiters.
Tailor the work experience section with relevant job titles and the companies information. Be more specific about your tasks and how they helped your previous employers. A smart way to do that is by stating accomplishments along with job duties.
Be aware of eye-scanning patterns like F-pattern and E-pattern when using bulleted lists for automation tester jobs.
Automation testing skills in a QA resume should be all-encompassing. Mastering testing tools is a given, but knowing how to facilitate them throughout the testing process is another story. You can base off of these 15 Questions for Agile QA Leads as stepping stones to build on a comprehensive skill set to present.
Points like choosing automation tools, when to apply manual versus automated testing to following Agile and DevOps methodologies are attention-grabbing keywords to help your resume stand out.

Pro tip #6: Talk numbers
Always quantify your achievements.
For instance, it's better to say 'automated over 80 test cases every month and shorten the delivery time down by 20%"' rather than 'write automated test cases on a daily basis'.
Supporting your claims with evident statistics allows hirers to have more trust before even speaking to you.
If you did well in college, GPAs are also great additions. For those that haven't finished their academic learning, talk about individual courses and key takeaways you've obtained. Some popular QA courses for an automation tester resume are:
In contrast, if you hold years of experience and had already gone through in-depth training, here are some worthy certifications to have:
Certified Associate in Software Testing (CAST)
International Software Testing Qualification Board (ISTQB) Tester
Certified Test Engineer (CSTE)
Certified Software Quality Analyst (CSQA)
Certified Manager of Software Quality (CMSQ)

Advanced Level Test Analyst or Test Manager
Final Word
Here we conclude our guide on how to create an ideal automation tester resume. So next time you are out hunting for a new position, use these expert tips to land your dream automation testing job.
Read more:
References: