Announcing Katalon TestOps November 2021

Hello Katalians! We are back with a new release of Katalon TestOps. The November 2021 TestOps release focuses on enhancements to the report system, including test results and changelog reports and improvements around test run reports, to bring you better insights during the testing process.
Override Test Results and Changelog
One of the great features that Katalon provides to deal with test flakiness is the ability to override the status of a test result. As you already know, a flaky test will fail and pass without any changes made to it. Users in TestOps have the ability to change the test result status manually as they see fit from failed to passed (or vice versa).
In this release, we enhanced this feature by giving users the option to provide further information before submitting any changes to the final test results. This will help to keep a clear record of why a test result changed as well as who authored the change. Moreover, it will allow users to quickly identify whether a test result has been edited.
This feature will be enabled by default to all TestOps users starting in this release.
To use it, simply select the test result that you want to work with from the TestRuns screen in TestOps.

Then click on the three dots to display the "Mark as passed" (or failed) option.

Select a reason for the change (you also have the option to add a custom message).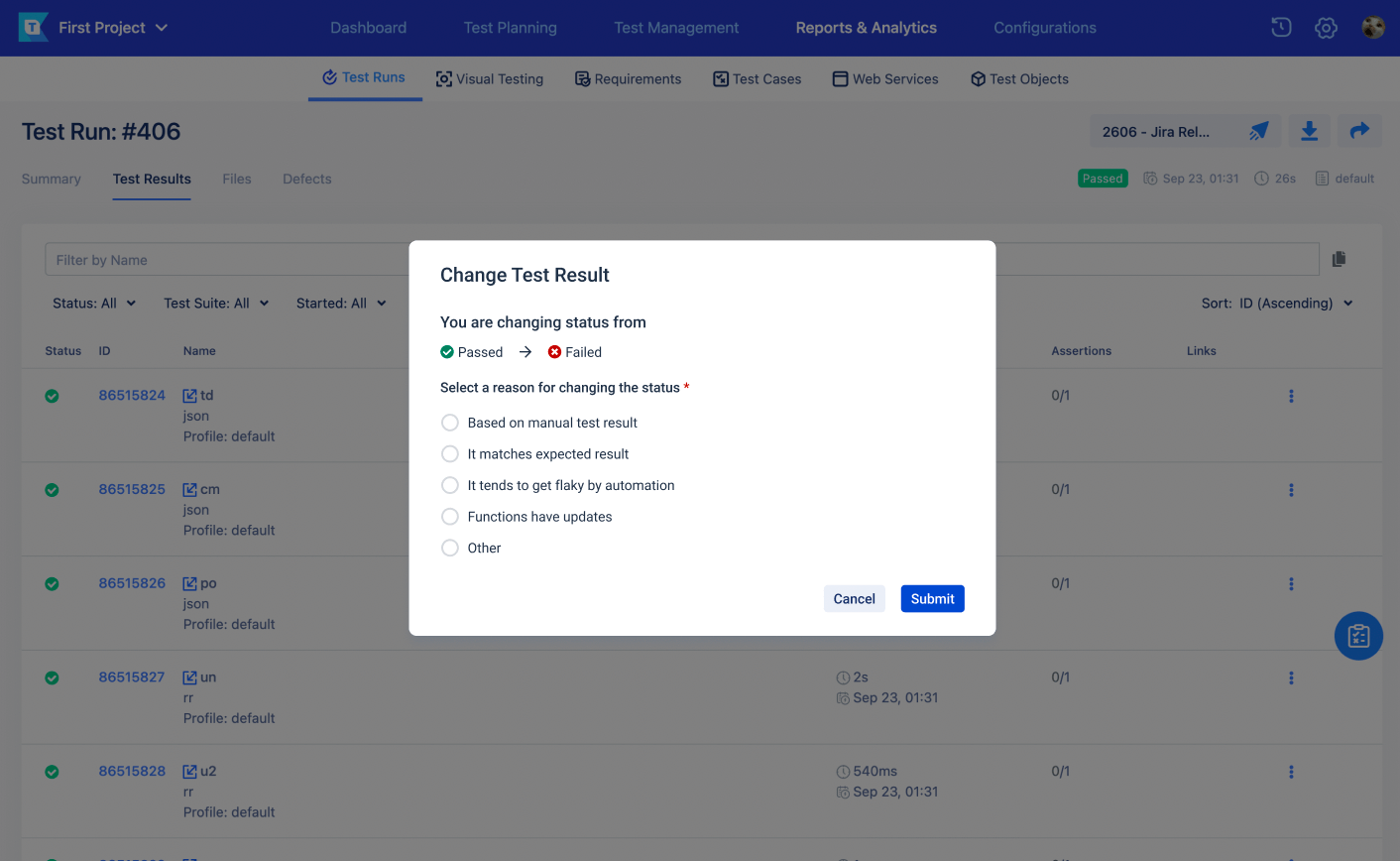 Once you are ready, submit the changes and you will be good to go. All the details about the change, including time, author, and reason, will be documented in the comments section for that particular Test Result.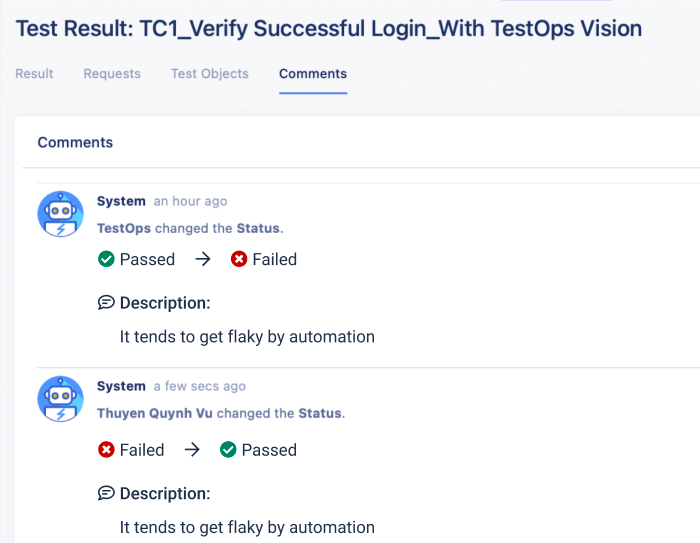 Enhanced Test Run Report
At Katalon, our goal is to enable a swift testing experience all the way from creating test scripts automatically with Studio to getting actionable insights from TestOps. In this release, we've revamped how we display Test Run reports to make them clear and more insightful to users.
This new enhancement combines the Test Run and Summary pages to provide a single, easy-to-digest report page. Additionally, we have replaced the chart on Test Runs with a much more streamlined bar chart that shows the numbers of Test Runs by Status.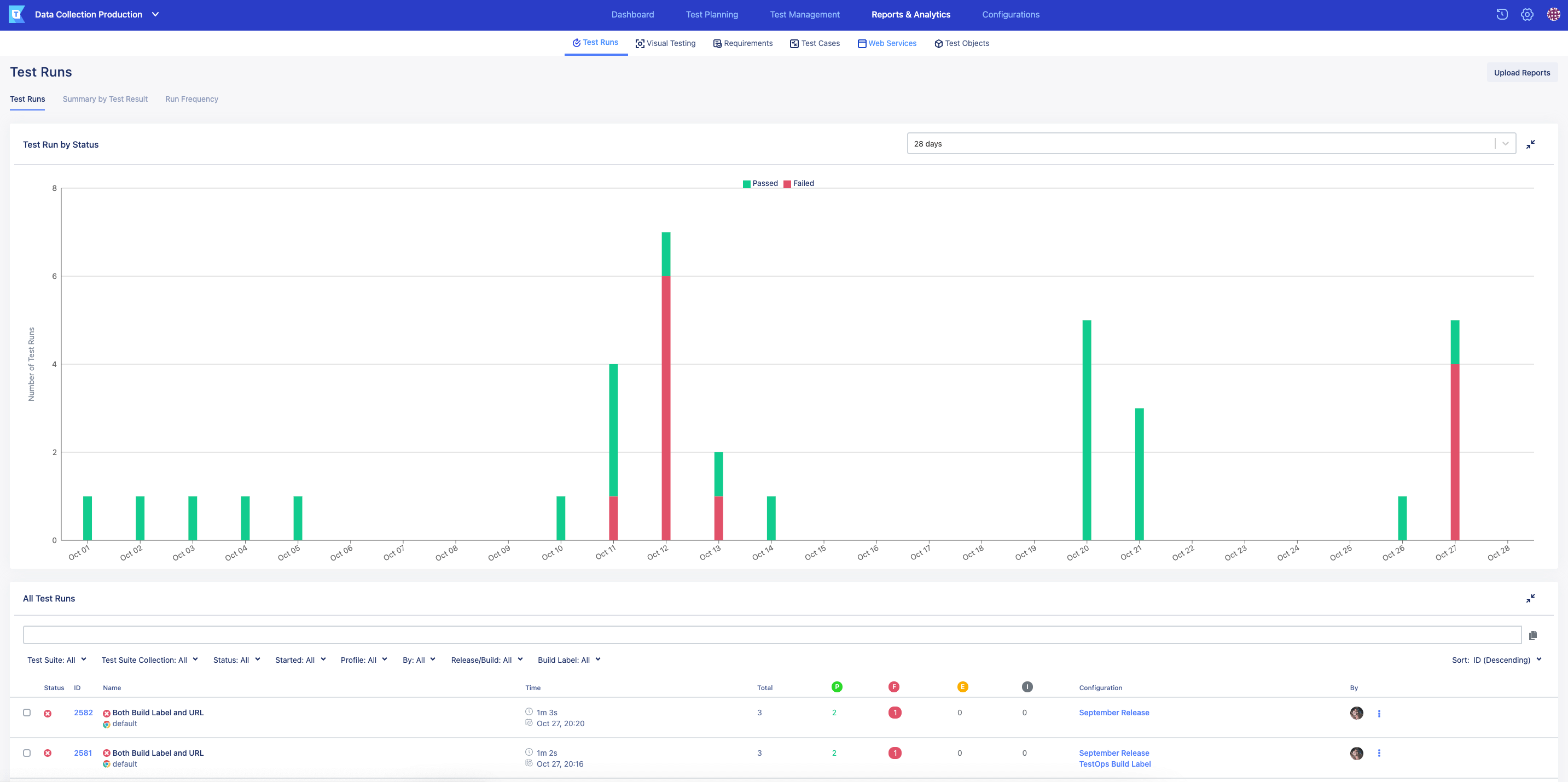 Schedule Test Runs via TestCloud (Preview feature)
We have some great updates coming down the product pipeline. Coming up in Q1 2022 we introduce Katalon TestCloud, a product that makes it easy for testers to execute automated tests across the most common browsers and devices. In this release of TestOps, we are giving the opportunity to a select group of beta testers to try the new option to select TestCloud as a test environment to schedule a Test Run.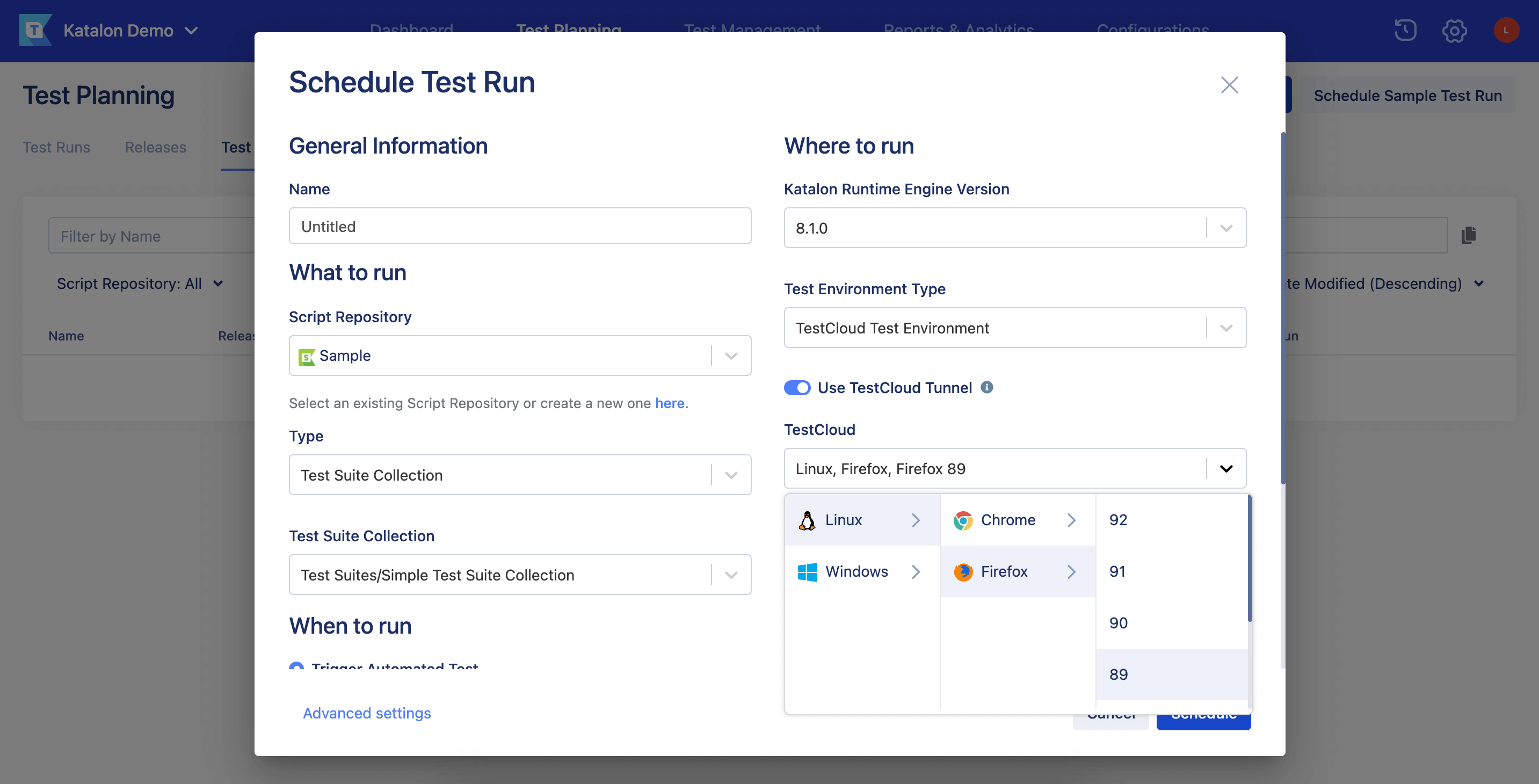 This feature is a preview feature that will be available for participants of the BETA program only. As the day of publication, it is not intended to be used under any circumstances in a production environment. If you would like to learn more about TestCloud and participate in the BETA program, please send us an email to success@katalon.com.
In Case You Missed It
Wrapping Up
We are excited about the enhancements introduced in the November 2021 release of TestOps. With this release, we aim to continue providing a solution that will allow you to focus on what matters most — releasing better products, faster.
The new features in this TestOps release provide teams with an enhanced reporting capability to be able to make data-driven decisions and improve the quality of their products. For a complete list of the new features, improvements, and fixes, please visit the release notes.
As always, please post any questions, ideas, or concerns in our community. We are eager to hear from you.

function setCookie(cname,cvalue,exdays) { var d = new Date(); d.setTime(d.getTime() + (exdays*24*60*60*1000)); var expires = 'expires=' + d.toGMTString(); document.cookie = cname + '=' + cvalue + ';' + expires + ';path=/'; } function getCookie(cname) { var name = cname + '='; var decodedCookie = decodeURIComponent(document.cookie); var ca = decodedCookie.split(';'); for(var i = 0; i < ca.length; i++) { var c = ca[i]; while (c.charAt(0) == ' ') { c = c.substring(1); } if (c.indexOf(name) == 0) { return c.substring(name.length, c.length); } } return ''; } //get cookie here before set at file check_first_user.js var cookie_check_user = getCookie('check_first_user'); jQuery(document).mouseleave(function () { var cookie_popup_outof_page_is_closed = getCookie('popup_outof_page_is_closed'); //console.log('out'); if(cookie_popup_outof_page_is_closed != ''){ //do nothing } else{ } //script closed and save cookie for this jQuery('#modal-id-popup').on('hidden.bs.modal', function () { setCookie('popup_outof_page_is_closed', 1, 30); }) });