Katalon Platinum Sponsorship Announcement | PNSQC 2021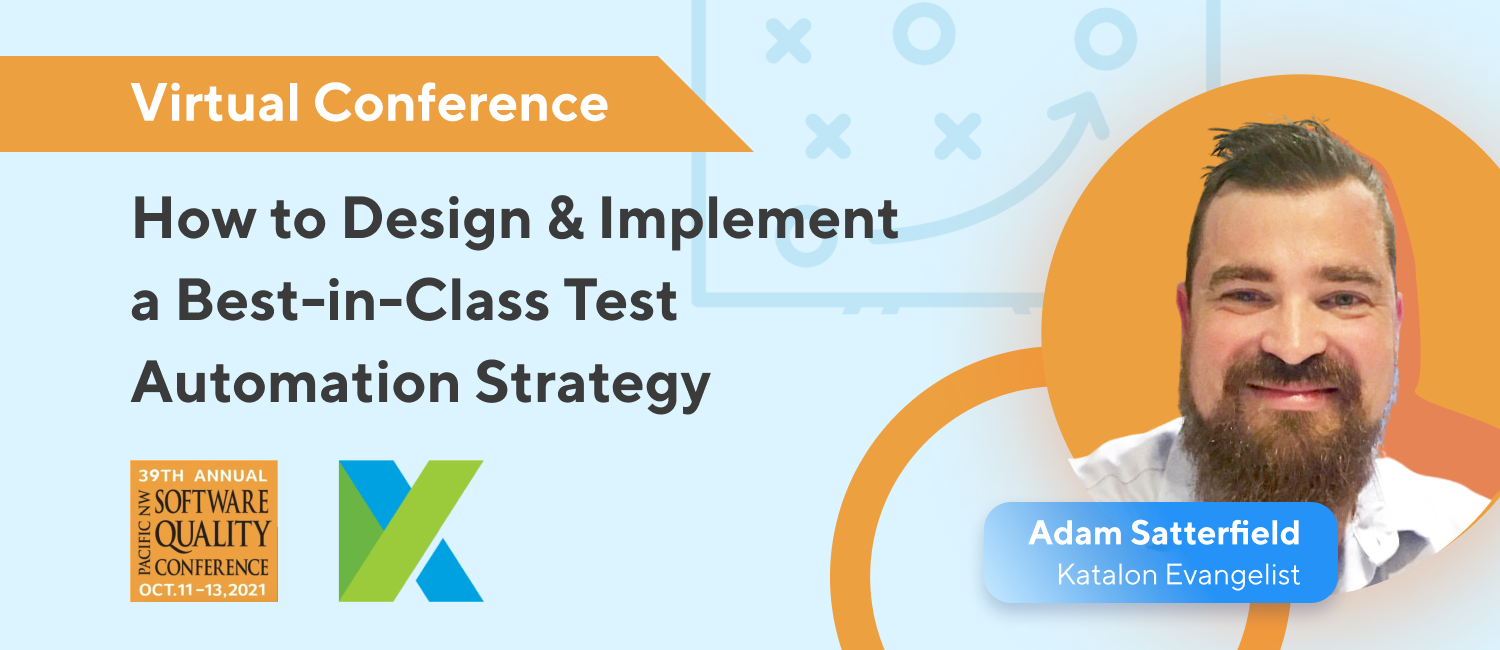 Katalon at The 39th Pacific Northwest Software Quality Conference (PNSQC)
Reaching the end of 2021, Katalon is very excited to announce that we are a platinum sponsor at the 39th Pacific Northwest Software Quality Conference (PNSQC) – and we would love to see you there.
This year's PNSQC conference is themed "Quality Coming Together", with the purpose to inspire attendees and speakers to think of ways to learn from the past and envision ways to achieve better quality in the future.
PNSQC 2021 will feature over 30 industry-recognized speakers that will deliver a variety of keynotes, panel discussions, and workshops on key topics of today and tomorrow. There also will be social events, conferences, papers presentations, and a myriad of content and insights that attendees can apply to their work. This conference also offers a full day of technical deep dives and workshops on multiple topics related to quality engineering, new technologies, and more.
With the technical presentation titled How to Design and Implement a Best-in-Class Test Automation Strategy, Adam Satterfield, Senior Director of Engineering Enablement at Global Payments (and Katalon Evangelist!), have shared the best practices to implement the best automation strategy, and also valuable insights such as:
What needs to be automated

Best practices to define test automation goals

How to make effective use of the tools and resources you have

What a modern test automation strategy looks like and how to implement it, and more.
The PNSQC 2021 event will be hosted online from October 11-13, 2021. You can see more details about the presentations and keynotes here.
As always, reach out to us if you have any questions. Stay tuned for more info on events and other news.
More about Katalon at PNSQC: www.pnsqc.org/pnsqc-2021-conference-glance/
function setCookie(cname,cvalue,exdays) { var d = new Date(); d.setTime(d.getTime() + (exdays*24*60*60*1000)); var expires = 'expires=' + d.toGMTString(); document.cookie = cname + '=' + cvalue + ';' + expires + ';path=/'; } function getCookie(cname) { var name = cname + '='; var decodedCookie = decodeURIComponent(document.cookie); var ca = decodedCookie.split(';'); for(var i = 0; i < ca.length; i++) { var c = ca[i]; while (c.charAt(0) == ' ') { c = c.substring(1); } if (c.indexOf(name) == 0) { return c.substring(name.length, c.length); } } return ''; } //get cookie here before set at file check_first_user.js var cookie_check_user = getCookie('check_first_user'); jQuery(document).mouseleave(function () { var cookie_popup_outof_page_is_closed = getCookie('popup_outof_page_is_closed'); //console.log('out'); if(cookie_popup_outof_page_is_closed != ''){ //do nothing } else{ } //script closed and save cookie for this jQuery('#modal-id-popup').on('hidden.bs.modal', function () { setCookie('popup_outof_page_is_closed', 1, 30); }) });