A Makeover for Katalon Brand Identity
Katalon website recently had a refreshed look — as you can tell from the website. Our team has revamped our website content structure, as well as the logos of Katalon products. Check it out!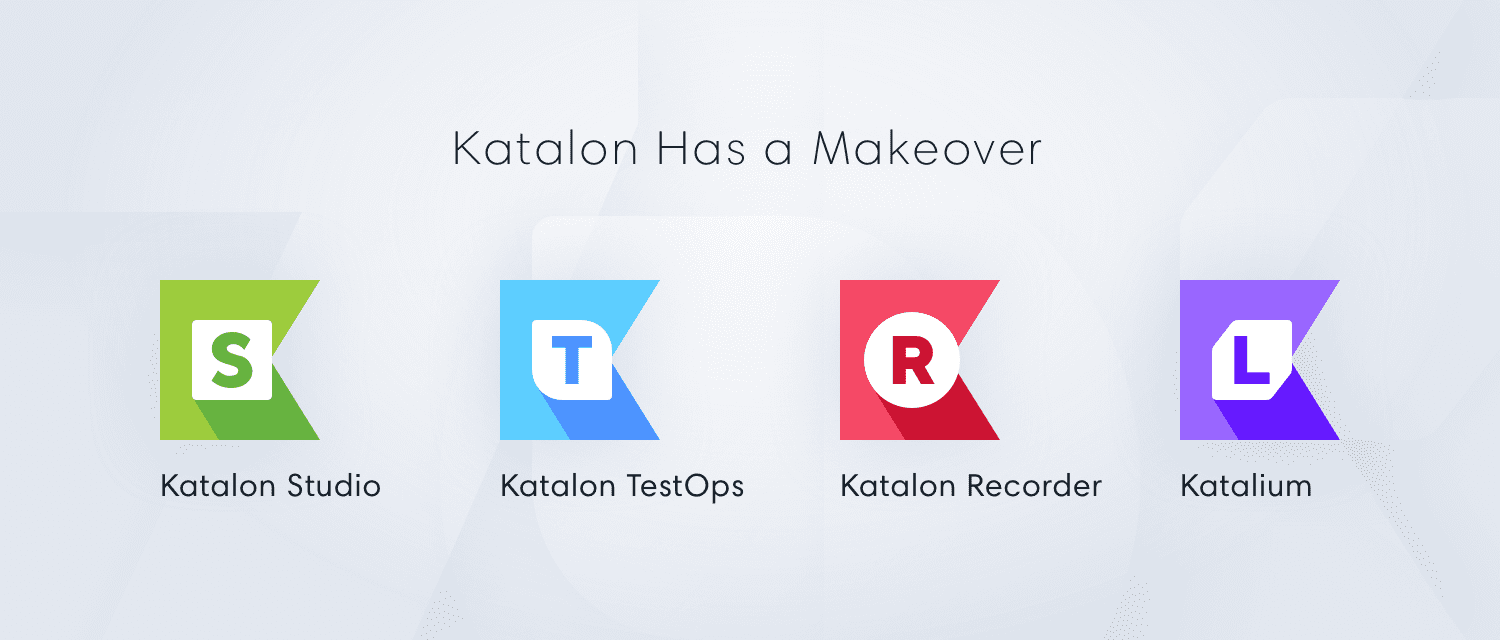 mmm…Kay
We're proud of our initial — the letter K. So while there's a sheer volume of changes, the Katalon logo remains the same. From now on, this logo will represent not only the Katalon Studio software, but the entire Katalon solution, which includes Katalon products and Katalon services.

Although we've also come up with other alternatives for the Katalon logo during the rebranding process, we believe the current one has best represented our brand and truly stood the test (pun intended) of time.
Motive-wise, the new logo set serves two purposes: 1) to join our products into an assembled ecosystem, and 2) to show our end-users that our solution has gone much further than a single test automation platform.
Design-wise, we keep the distinct 'K' in the design of our product logos. For the sake of consistency, we use the letter's illustration as the background for the child products' initials: S for Katalon Studio, T for TestOps, R for Katalon Recorder, and L for Katalium.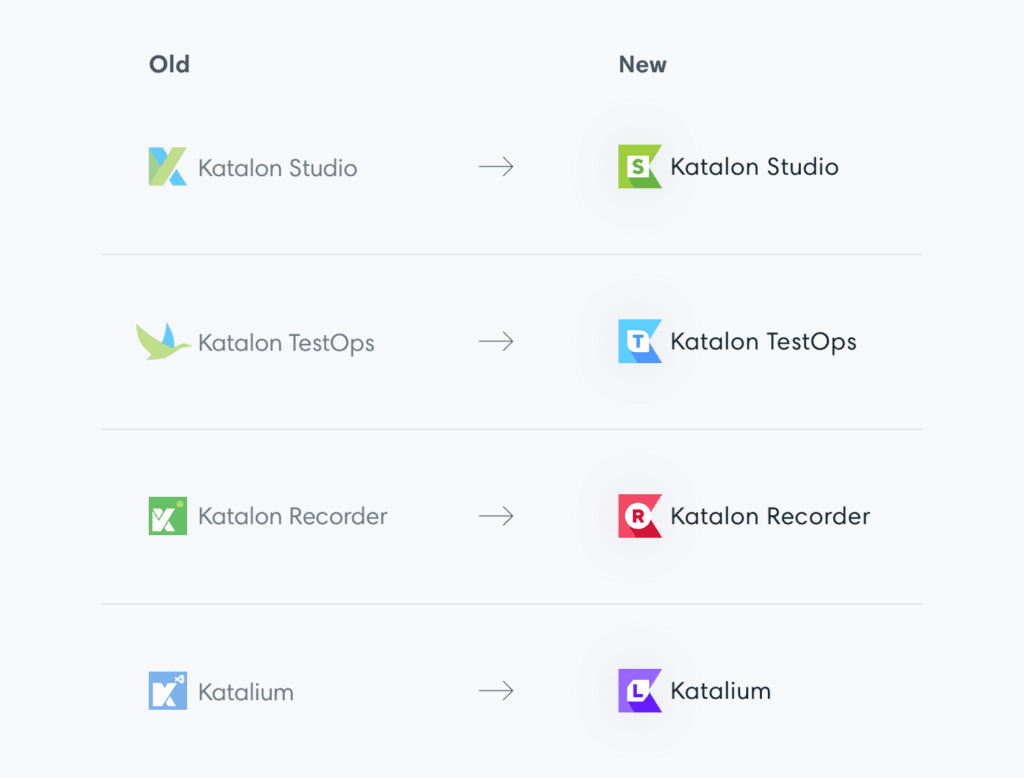 🔊 The new Katalon logo set is available for download here. Also, please be mindful of your usage of our branding assets, for example, not modifying our logo colors, or using our logo content in a misleading way. You can learn more about Katalon website content terms of use here, or email us at info@katalon.com if you are unsure.
Website Transformation
We've also restructured the content on our website due to these reasons: 1) to give our readers a quick, general grasp of each product and its associated capabilities, 2) to consolidate all resources for our users to look up whenever needed, and 3) to give our content revamp an orderly and aesthetic appeal.
The top menu bar includes all main topics about our products and services:

Products
The Products tab includes everything about Katalon tools and solutions (web, API, mobile, and desktop app testing). Here, you can also learn how to extend automation capabilities with Katalon Store, integrations, and various methodologies.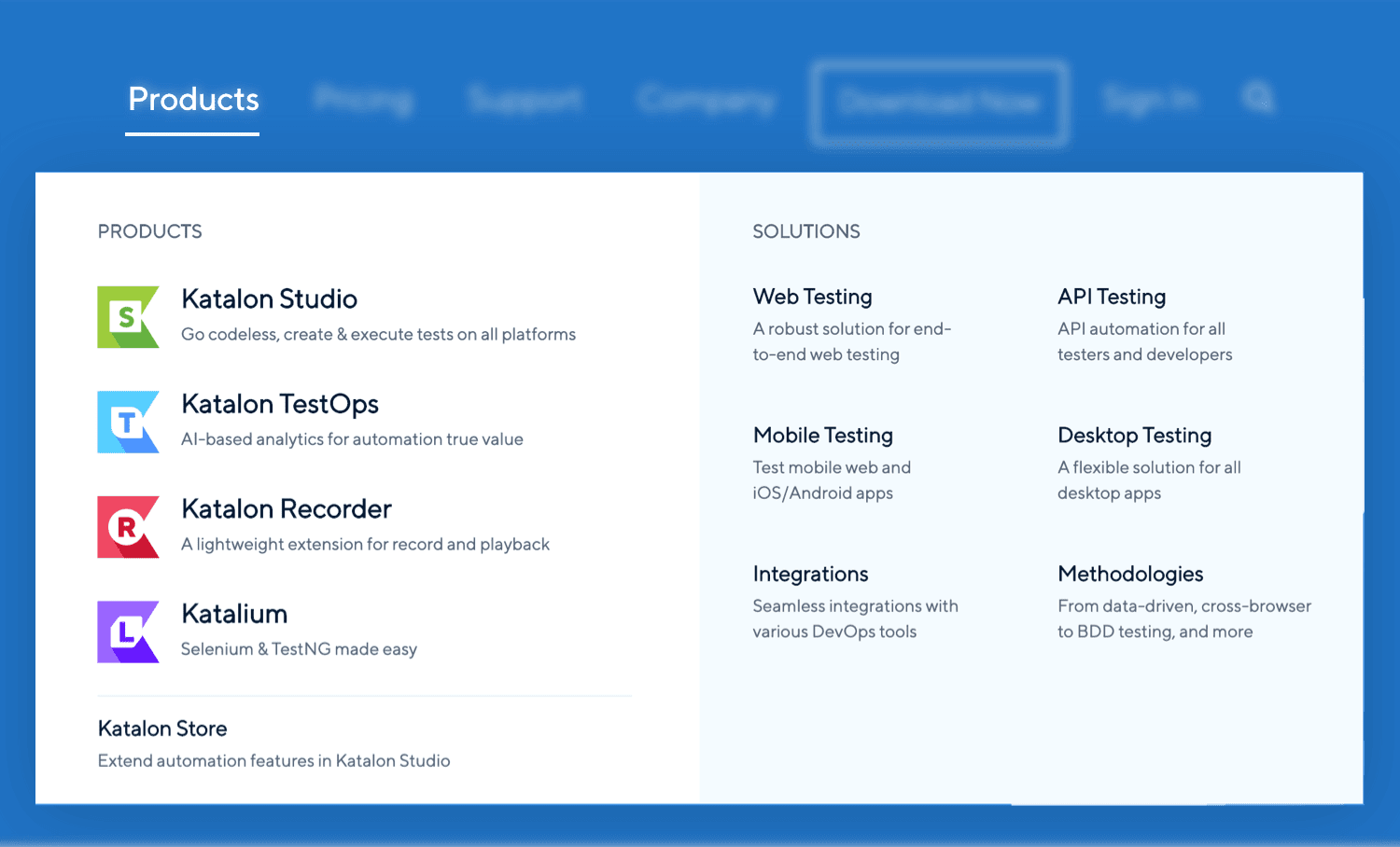 Pricing
The Pricing section, when clicked, will direct you to our pricing page in which you can find all information about Katalon Studio, Katalon Studio Enterprise, and Runtime Engine licenses. Learn more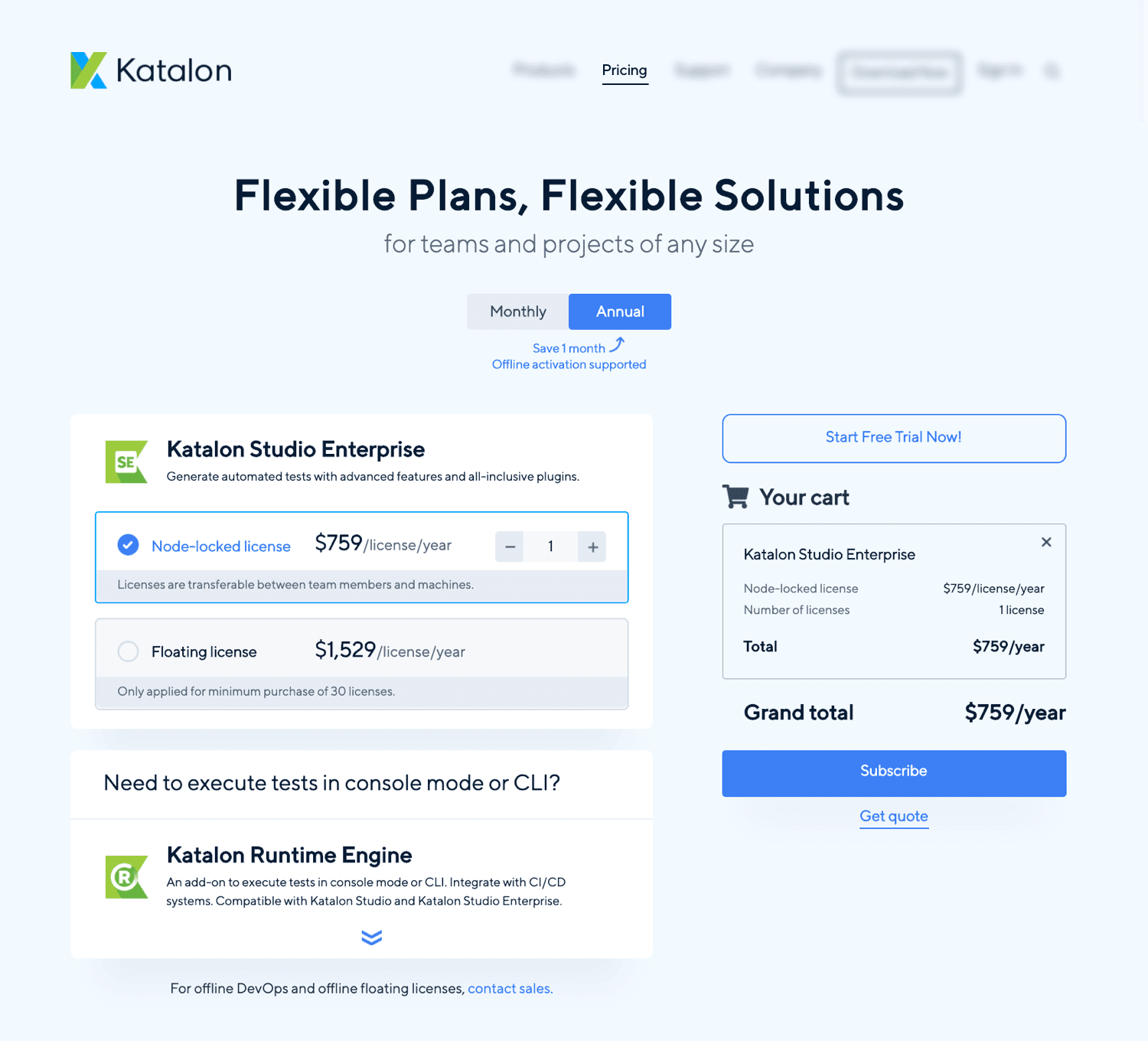 Support
Under Support, you can find all materials needed throughout your test automation experience, from Katalon Help Center, Documentation, Community (forum), GitHub repositories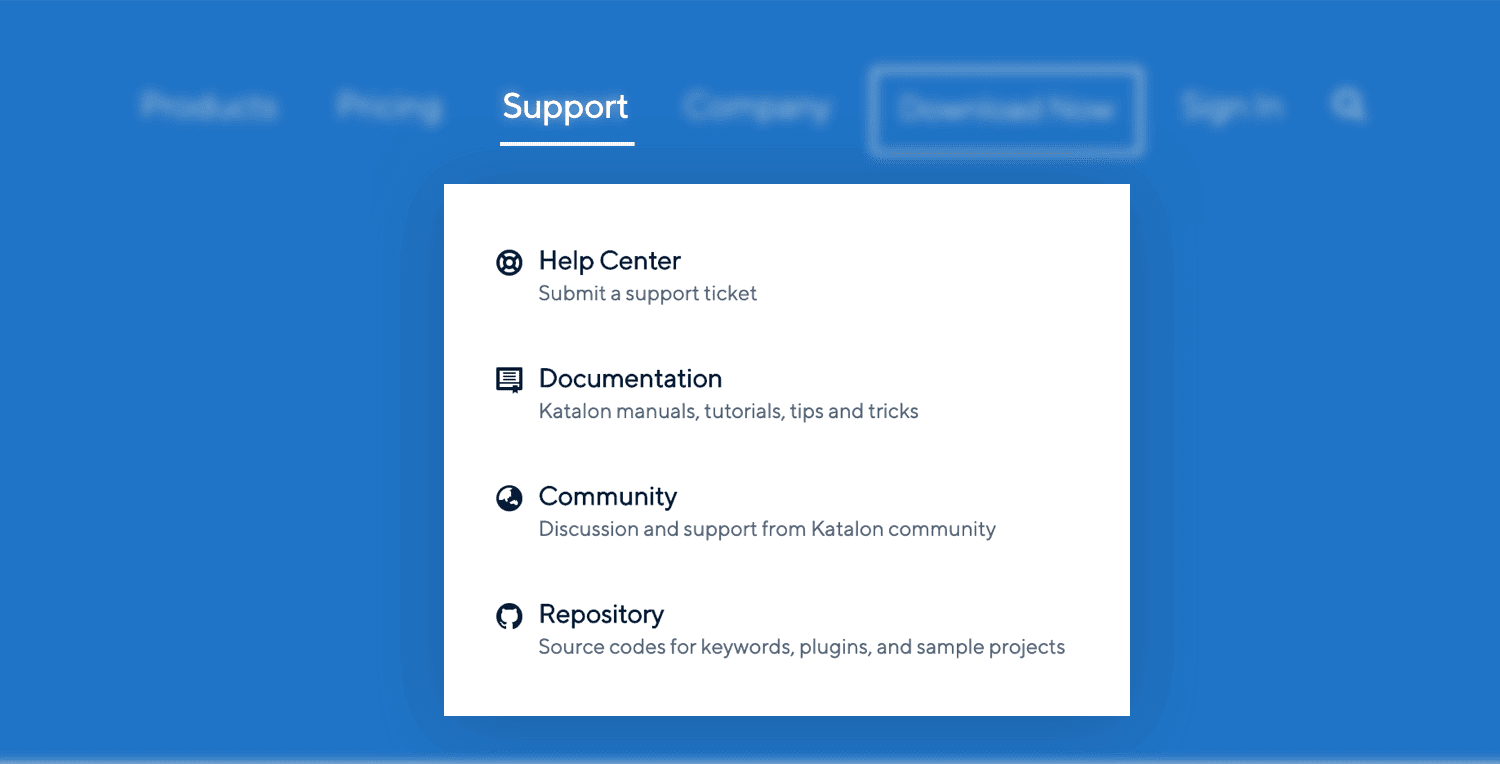 Company
Finally, under Company, you can find more information about Katalon, Inc. as well as keep yourself updated with our latest news, domain knowledge sharing and events via Blogs and Webinars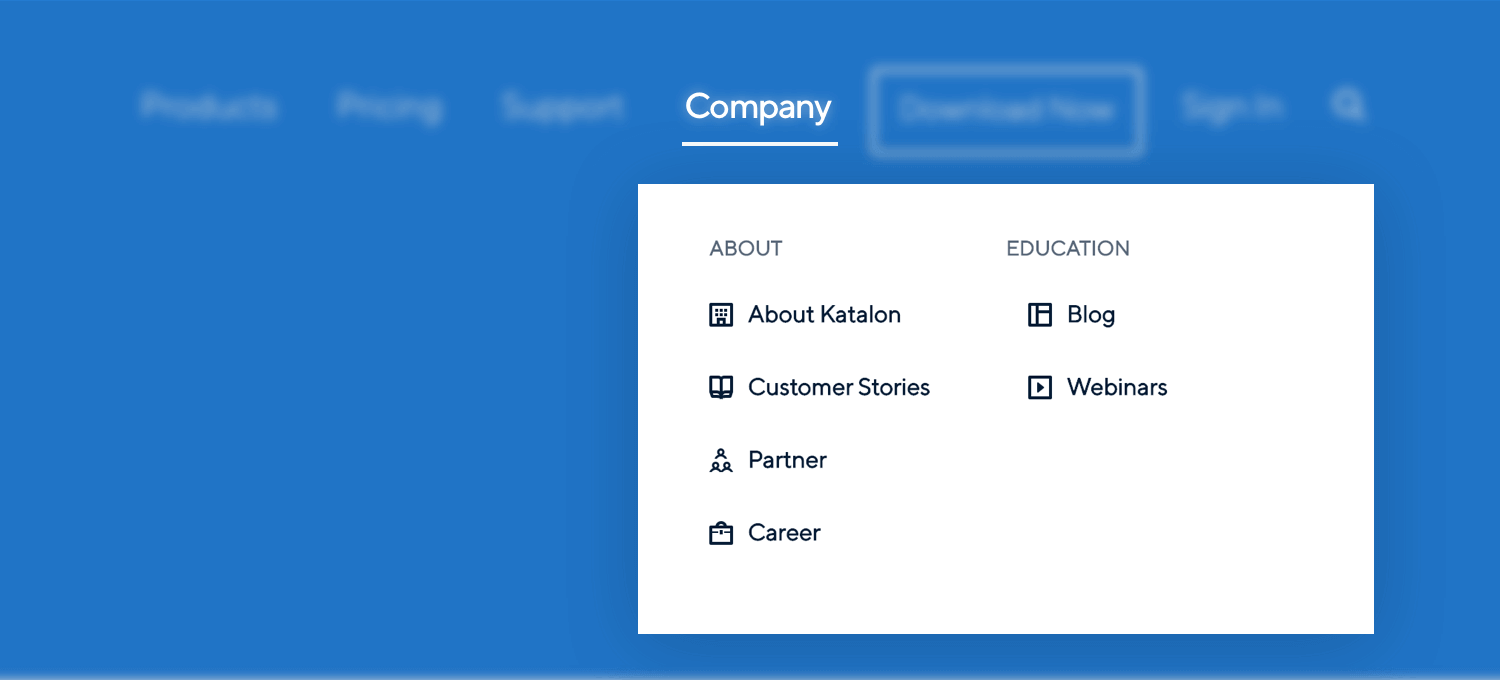 We believe this renovation will give Katalon's branding a clean, cohesive, and structured look. We hope it will also enhance our readers' experience while browsing our website.
Happy testing and happy browsing,
— the team at Katalon