Katalon Supports IE to Edge Migration | Testing in IE Mode

Internet Explorer has gone end of life on June 15.
You might have stumbled upon an Internet Explorer issue of not being able to view certain content on the browser or experiencing a page that takes forever to load.
Well, out of the old and in with the new.
As of June 15, 2022, the Internet Explorer (IE) 11 desktop app end of support will be effective to make way for Microsoft Edge.
To minimize the impact on users and businesses using legacy Internet Explorer-based sites and applications, Microsoft:
Announced the end-of-life plan on August 17, 2020
Ceased support for Internet Explorer 11 on Microsoft 365 services on November 30, 2020
Updated the affected versions

of Windows 10
Internet Explorer EOL – Microsoft Edge and IE Mode
Note that Internet Explorer isn't going anywhere – it's the desktop app that is retiring while the engine remains.
For growing organizations, renovating and improving legacy applications isn't a top-of-choice decision. In fact, the legacy web app portfolios of some have expanded to where the cost of modernization has reached up to $300K.
Microsoft has gone ahead in ensuring that a two-browser workaround won't be needed for those that have invested in digital doings and activities in IE 11 legacy apps over the years.
Microsoft Edge
In the event of Internet Explorer's end of life, Microsoft Edge is the ultimate alternative. From evoking unauthorized browser access to better page loading and rendering, this Chromium-based engine addresses the all-too-familiar issues faced in legacy web apps.
For the general public, improvements include:
Defender SmartScreen – identifies personal credential leaks and displays warnings for phishing sites and malicious downloads
Sleeping tabs – lowers CPU and memory usage by 26% and 16% respectively when multi-tasking with multiple tabs open
Efficiency mode – optimizes CPU usage to improve battery life
Settings migration – transfers user cookies, browsing history, tabs, account IDs, and passwords
Enterprise Mode site – configures Edge-incompatible sites, pages coded on older IE versions, to render using the IE emulation tab
IE Mode
The Edge browser pretty much gives users the best of both worlds – compatibility with legacy and site apps, but also access to the futuristic web. Its highlights include:
Dual engine for bidirectional compatibility – The Chromium engine powers modern sites, whereas the Trident MSHTML engine is the backbone for legacy browser support.
Single-browser security – Running older applications IE can be done through an on/off switch instead of jumping between browsers and running into security breaches.
The IE Mode is expected to last through 2029.
Testing in IE Mode: IE to Edge Migration with Testing Tools

Testing platforms, tools, libraries, or frameworks have also done their part of the preparation by announcing their support for testing in the IE Mode.
Katalon, the end-to-end automated testing platform, is one of the many names that has allowed existing IE tests and test codes to be reused. This means that any Test Cases and Test Suites you've created in IE will automatically open up Microsoft Edge and run in IE Mode.
Below is the workaround using a custom keyword to run IE tests and record Edge with the IE Mode. Try it out with: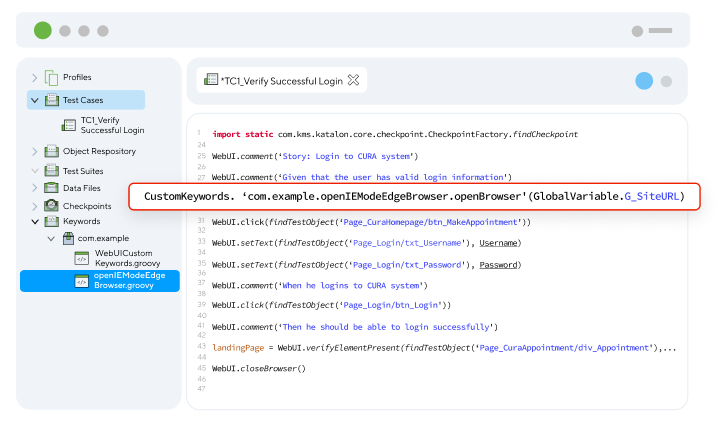 Note that there are some scenarios that will require additional workarounds. A few instances are:
Adding a wait command when there's a test step to open a new browser window
Making a copy of tabs' window handle when switching back and forth between several tabs