Katalon Studio listed as a Top Automation Tool by Microsoft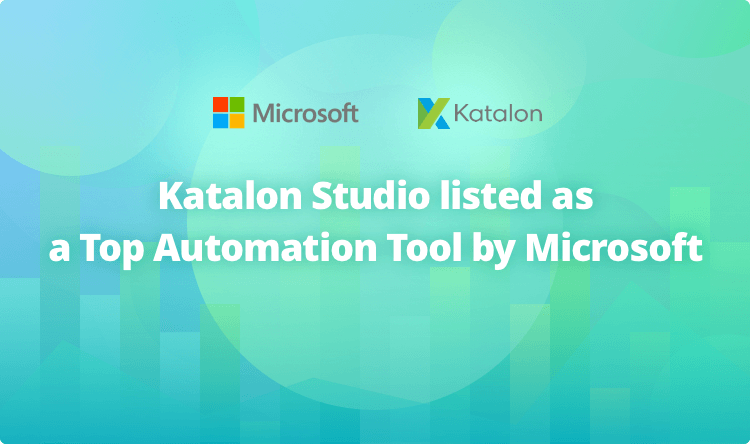 November 9, 2018 – Katalon Studio (https://katalon.com) has recently been listed as one of the best and most popular UI test automation tools by Microsoft Testing Services of Microsoft Developer. This is a noteworthy recognition, considering Katalon Studio has been introduced to the software automation market for merely three years, while other products have emerged since the 2000s.
The list comprises of automation applications that specialize in functional testing automation and regression testing, such as UFT/QTP, Selenium, CodedUI, TestComplete, and more.
"Katalon Studio is a relative newcomer, it has been around since 2015. It has a more reduced range of technologies it supports, but it's free and easy to use without programming skills for simple test cases," the article wrote.
"It has its own UI that allows for script recording and editing on a declarative view without programming skills. But it also has a scripting view for programmers to work on more advanced scripts. All features unified in the same UI package: Reports, Editor, Test Runner, etc. It's free and also has a paid dedicated support."
In addition to this endorsement, Katalon Studio has also been named as one of the Best Automation Testing Tools in 2018 (Learn more)
About Katalon Studio:
Katalon Studio is a comprehensive cross-platform test automation solution for API, Web, desktop and mobile testing. The application integrates all necessary components with built-in keywords and project templates into a complete automation framework. The tool was developed to support various testing technologies (Data-Driven Testing, TDD/BDD, Page Object Model, etc.) and integrate with the modern ALM systems (JIRA, qTest, Slack, CI, Katalon TestOps, etc.).
Katalon Studio is easy to use for automation beginners, but still offers advanced capabilities for experienced users. It has been trusted and recommended by an active community of hundred thousands of users from more than 150 countries around the world.
Katalon Studio currently has two versions:
Katalon Studio (free version): for individual users with basic test automation features and is available for download here.
Katalon Studio Enterprise: for teams and advanced users with exclusive features for large-scale usage. Accounts registered with business email domains are eligible for a one-month free trial. More information, please refer to Katalon Pricing