Accelerate test automation with Katalon Plugin for Bamboo
We're excited to introduce Katalon Studio for Bamboo—a plugin that helps integrate Katalon Studio with Bamboo CI server. This blog will guide you through the plugin's features and functionalities, so that you can take Katalon Studio test automation to the next level with Bamboo.
Overview
Bamboo is a continuous integration and continuous deployment (CI/CD) server, developed by Atlassian. Many developers have been prone to using Bamboo in their CI/CD pipelines because of these benefits:
Deep developer tools integrations

Built-in deployment support

Powerful build agent management

Automated merging

Built-in Git branching and workflows

Enterprise support and resources
By integrating Katalon Studio with Bamboo, you can seamlessly view and monitor the status of your Bamboo builds and deployments without leaving your Katalon projects.
This plugin also enables you to bypass the process of writing in command line, which can be time-consuming, or might require a certain level of programming skill. With this plugin, you can input information (e.g. which Katalon Studio version to download before executing tests, which test suites to execute, where to store result files, etc.) via the friendly user-interface, instead of through a command language interpreter (CLI).
Here are some highlights of Katalon Studio for Bamboo:
1. Command arguments
Input all relevant command arguments for your test plan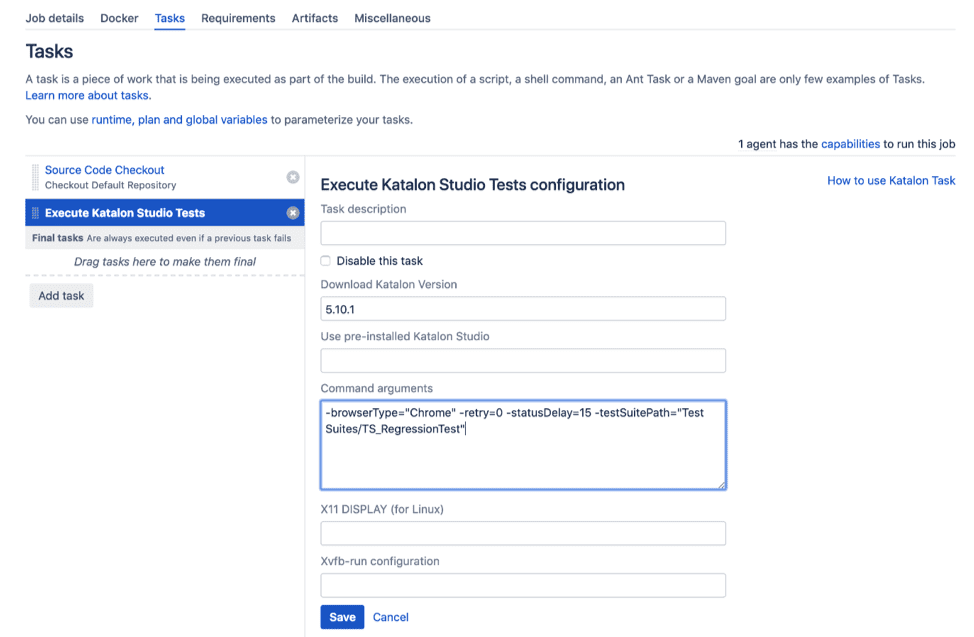 2. Headless test execution
Configure to run Katalon Studio on a headless machine with Xvfb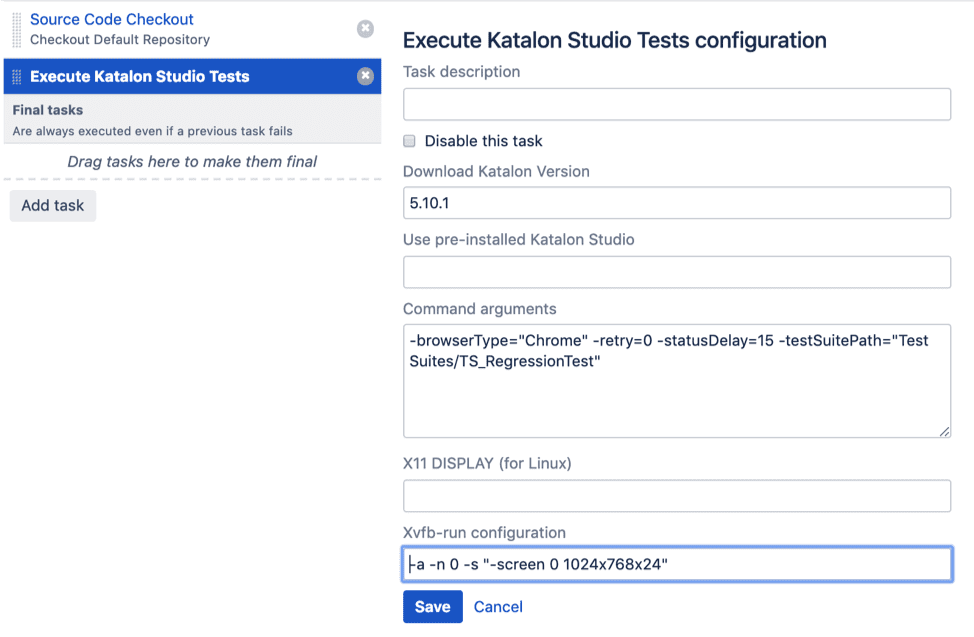 3. Import Katalon Studio artifacts
Configure to copy reports of all executed test suites from Katalon and view them in Bamboo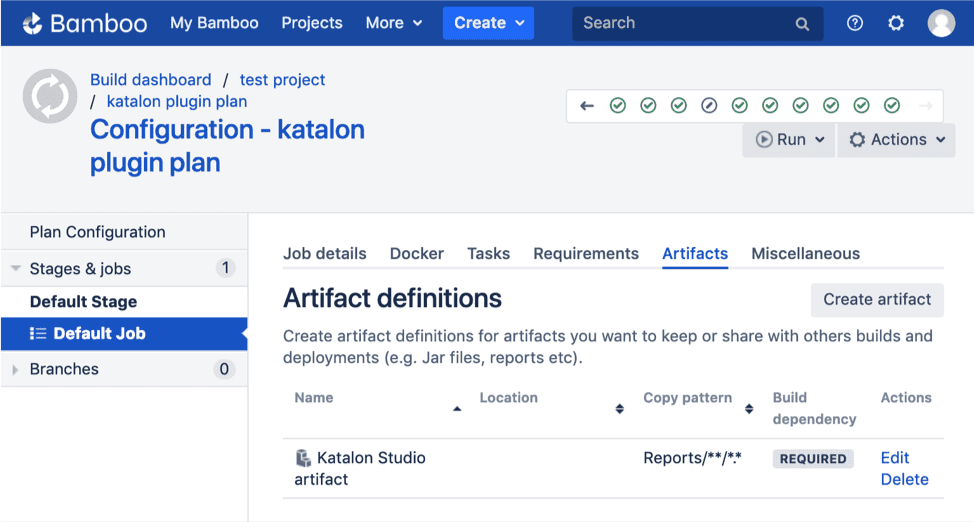 How does it work?
To start using Katalon plugin for Bamboo, you need to install the plugin from Atlassian Marketplace. Follow these steps to install:
Log into your Bamboo instance as an admin

Click the admin dropdown and choose Atlassian Marketplace

Click Find new apps or Find new add-ons from the left-hand side of the page

Locate

Katalon Studio for Bamboo

via search

Click

Try it free

to begin a new trial or

Buy now

to purchase a license for Execute Katalon Studio Tests

Enter your information and click

Generate license

when redirected to MyAtlassian

Click

Apply license
Learn more about how to use Katalon Studio for Bamboo.
To find the previous Katalon Studio for Bamboo versions that are compatible with your projects, visit our version history page.
Trigger modal