Katalon Community Giveback 2020
[UPDATED] Our Community Giveback 2020 is closed. The Katalon team is beyond happy to read all of your submissions. After careful reviews, we're happy to announce our ten Winners for the program as follows:
Once again, thank you for your participation, and your trust in Katalon Studio!
————
October 2019 was marked as a big milestone for the Katalon team. It was when we first released the Katalon Studio Enterprise (KSE) – the testing solution for businesses who were looking for an advanced, powerful, and scalable solution to their projects.
Oct 2020, KSE is trusted by 60,000+ users from 25,000+ companies worldwide, after a 1-year release. To express our gratitude to the community that makes this possible, Katalon is announcing a Community GiveBack campaign with valuable Katalon giveback packages for our testers.
You can join in on the campaign through 3 social media channels: Facebook, Twitter, LinkedIn. The package includes a T-shirt, $50 Amazon Giftcard, 1-year Katalon Studio Enterprise and Katalon Runtime Engine License. Here's how you can win our package: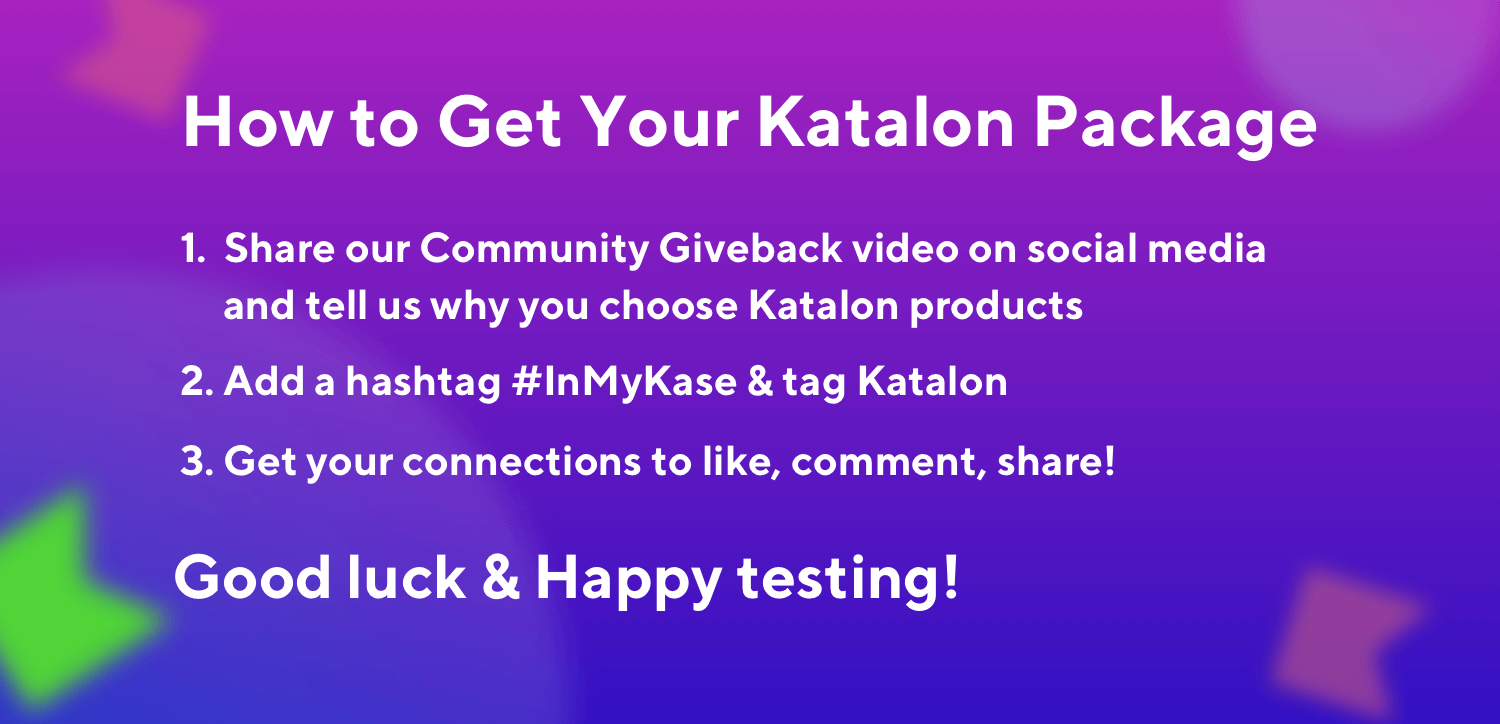 Choose your most favorite channels and spread your words:
For more information, refer to our official rules below. Thank you for your support!
The Katalon Team.
Official Rules
1. No purchases or subscription is necessary to win. All participants must consent to the full and unconditional acceptance of these official rules (""Official Rules"") and the Sponsor's decisions, which are final and binding in all aspects.
2. ENTRY PERIOD: The Community Giveback Program (Program) by Katalon, Inc. (Sponsor) begins on October 26, 2020. and ends on November 13, 2020. Sponsor's computer will be the official clock for the Program. All entries must be received during the Entry Period to be eligible. All times in these Official Rules are EST.
3. TO ENTER: During the Entry Period, (i) reshare / retweet our video and tell us the reason why you choose Katalon (ii) add the hashtag #InMyKase and (iii) tag @KatalonStudio in the post. Entrant's post must be public. Limit of one (1) entry per participant per social media, regardless of the entry method. Entry information becomes the property of Sponsor and will not be acknowledged or returned. Entries will be disqualified if they are late, incomplete, and/or in excess of the stated entry limits. Any entries attempted through the use of agencies or robotic, repetitive, automatic, programmed, or similar methods will be void.
4. PRIZE DETAILS: Ten (10) winners with the most total engagement (likes, comments, share) on all 3 social media combined (Facebook, Twitter, LinkedIn) will each receive one (1) prize package consisting of: one (1) 50$ Amazon Gift Cards (retail value $50); one (1) Katalon T-shirt (retail value $25); one (1) Katalon Studio Enterprise and Katalon RunTime Engine 1-year License (retail value $1298). Any prize details not specified herein will be determined by Sponsor in its sole discretion. Prizes are not transferable, assignable or refundable and cannot be substituted for cash. Prizes must be accepted as awarded.
5. WINNER NOTIFICATION AND ANNOUNCEMENT: The Top 10 most engagement will be calculated by the closing time of the Program. Sponsor will select the winners from among all eligible entries received during the Entry Period. The potential winners will be notified on or about November 18, 2020 via Direct Message and @mention, in Sponsor's sole discretion. Sponsor will not be liable for any potential prize notification that is lost, intercepted, or not received by any potential winner for any reason. If a potential winner cannot be contacted within five (5) days after the first attempt, the Sponsor may select an alternate potential winner from the remaining eligible entries. There is a limit of one (1) prize per participant.
Trigger modal